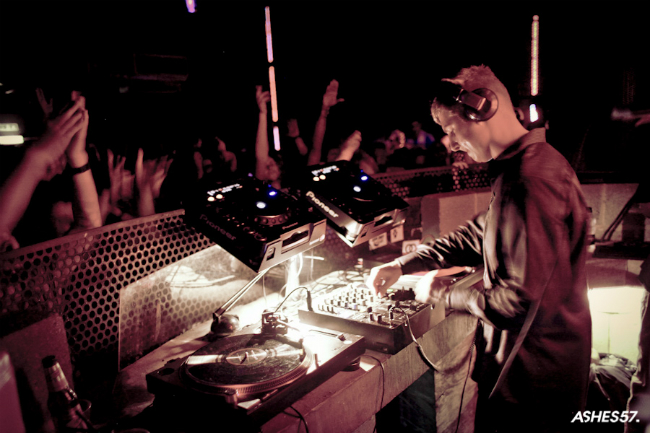 What an amazing two-plus years it's been for Tony Williams, the man behind the moniker of Addison Groove. With a storm of buzz and bass-fueled dance mania (see what I did there?) that came from his "accidental dancefloor smash" "Footcrab", he followed his 808-laden path with releases on SWAMP81, 3024 and Tectonic. Finally after a few months of silence, the news came through that Williams would take a chance on releasing an album of Addison Groove productions, this time on the 50 Weapons label (headed by German omnitechno specialists Modeselektor). The result was a surprisingly lush and paced journey entitled Transistor Rhythm, which took his influences of Chicago origin and kept surprising listeners through every track. Instead of fixating on faster BPMs, Williams focused on groove, vibes and incorporating the source of his sound to new heights. In this exclusive interview with URB, the man behind Addison Groove discusses his album process from a personal and technical standpoint, in addition to chatting about his live set-up and how he came about with his decision to work with the label that pushed his LP. Check out the interview and info on his forthcoming NYC show after the jump.
URB: So it all started with "Footcrab", and now Transistor Rhythm is available on Modeselektor's 50 WEAPONS label; was an album always in the cards or were you just waiting for the right time?
ADDISON GROOVE: I made a bunch of tracks and I didn't really have anywhere to put them, putting out 12"s; but around summertime, I made a track called "Beeps" and thought it was good. So I played some other tracks in that vein in the club and they sounded great. I had passed it along to Modeselektor and they hit me back saying they wanted to work an album with me. I thought about it and it sounded good, considering they were in Europe and were having me play festivals with them. They didn't owe me anything and have been super-nice, and I put them at the top of the list. 50 WEAPONS seemed like a perfect choice because it was a veritable lineup of amazing acts, acts that you would see at a festival. I met them in October and we figured to get it finished by December and then have it released in March. They gave me full control over the album process, with tracklisting, album artwork and such. I'm really happy with the way it's turned out.
URB: On Transistor Rhythm, it seems like slowing down your tempos was important, at least early in the record; were you always at the ready to make slower AG tunes?
AG: Not really, I noticed that my DJ sets were a lot slower, so I started making slower-tempo tunes, at a random number, 123BPM. I thought this was kind of trippy, thinking to put these sounds at a slower tempo and it made me kind of comfortable, came naturally.
URB: How has your production style changed from certain points since adopting the Addison Groove persona, let's say from your days as Headhunter?
AG: The biggest difference is when I made my Headhunter tracks; it was reliant on the technology, considering I was learning Logic on the fly. By the time Addison Groove came around, I knew about the technology more and it became more musical as opposed to learning at that very moment. I was chucked at the deep end, getting releases while learning, because I wasn't experienced, I'd be thinking what people wanted to hear. I'd kick myself, thinking too much and once I figured out to make what I want to make, you develop your own kind of style.
URB: In about mid-to-late 2010, you finally purchased one of the most prevalent pieces of kit in your music nowadays, the Roland TR-808. How has having the actual piece of kit changed the production process?
AG: The biggest flaw about is that it's got sixteen buttons, no swing and no shuffle. So the beats are super-straight with it when you make the tracks. So upon learning this, I sampled the damn thing, it's just the most logical thing to do in my productions. Playing with it however, is the most fun. Anyhing you do with is an instant song, you press three buttons and it sounds fucking good. The reason why I play it at a club is that this thing sounds amazing on a proper system. It's helped my production too, in being able to play instruments more and forget about technical aspects for a while and just play around with stuff, which changed my approach greatly. I also have some great keyboards like the [Roland] Juno 6, they don't have MIDI but they have Gate CV, and when you wire them up they all just talk to each other. Now I wish could take them all to the club and just show off and put on reverbs on the auxiliary.
URB: The live set is centered on the TR-808 and Ableton, are you improvising live or are you sending MIDI through your 808 to trigger stuff? What else are you using to expand the performance?
AG: When I first started playing live, I had to buy an 808 that had MIDI on it, I searched the whole of the UK and found one; I found it two weeks before I had the first live performance, so I had that much time to learn it. I wanted MIDI so I could use Ableton, so I would trigger the 808 with Ableton and it would trigger these patterns. About six months ago, I looked into using the DIN SYNC, Roland's step on MIDI before MIDI came about, it uses the same cable and same pins. MIDI cables and the DIN sync have five pins, and I used it because the 909 and the 303 both use it. Company called called Doepfer, made a MIDI-to-DIN sync converter, which could help me trigger Ableton to my converter and then changes it to DIN sync. I can now go to a club and play the actual sounds instead of playing MIDI-triggered stuff. It keeps the time, syncs the 808 and plays the vocal or stabs right in time. This is where the mixing desk comes in because the 808 has eleven 1/4–inch outputs, all which go to the desk and I control them all with the desk. Compile that with a soundcard and the audio from Ableton, I've made myself into a dub-sort-of live performer, like Scientist in a manner of speaking. This DIN sync converter really did change everything. MIDI has been retrofitted and going in via MIDI I can use the quantize settings in Ableton, but that's mainly for production. Nowadays, I'm sampling it and using the sounds more often.
URB: Now that you have this signature sound, are you likely to stick around forever with the 808 or will you continue to explore into weirder territories, like you were saying acid?
AG: I'm going to be using tom drums a lot after this album; like in the way every action film you see uses toms to heighten shit. So within the toms, I started listening to more African music, like Fela Kuti and kept digging, founding more sounds like bongos. I've just made two tracks, one called "Acid Blow" with a 909 kick, its designed for my live set.
URB: How did the collaboration with Spank Rock come about?
AG: "Bad Things" was made and I played it to Loefah and Pinch, people still playing it and it's on my computer. I then get an e-mail from Boys Noize, and he asked for me to do a remix for Spank Rock. From doing that remix, I got the contact info for Spank and told him about the track. Spank Rock then put this up on his Soundcloud with a download link, and asked him to remove the link. However 80 people downloaded it, which means like a few hundred did as well. We figured we might as well put it on the album and with "Beeps" I had actually sampled him, so I actually had him rework the sampled vocal and that's what you hear on the album.
URB: How have things changed DJ-wise?
AG: I've stopped playing dubstep almost completely. I'm kind of done with it, and thankfully, no one asks for that anymore. I play mostly house, techno, my own stuff and them some juke at the very end.  I'm very lucky with my audiences, I feel like I can play anywhere on the weekend, play whatever I want and it gets accepted. I think that skill is looking at the crowd and gauging if they want more techno or bass, and if you can read that then you're good. I can play so many styles. Like I played with Boddika a couple weekends ago, playing more SWAMP81-esque stuff. I played in Poland not too long ago, I played house and techno but the juke stuff went off. In a weird way, all this music is related. But crowds change wherever you go.
URB: Touring-wise, what's your preference?
AG: I like to DJ because it's nice to select music in order and react to it, energetically. When I play live, I don't expect my crowd to do that, everything takes more time live. Things evolve within time; and I love doing it live because the whole set is pretty much my own stuff. People are pretty much happy and things are well received, it's all rewarding because it's all you. With the DJ set it's a bit more relaxing and I can have a few more drinks, get involved with the party. Live, I have to be a responsible performer. When I play live, I'm the designated driver, and when I DJ, I like to be driven.  The only downside of the live stuff is just lugging around the equipment, but the return on the investment is quite high.
URB: What's the stuff you've been listening to currently?
AG: The first thing you should know is that I don't get sent that much music; I got a couple of people I go to for tunes; Boddika, Scuba, FaltyDL and Bristol mates like Pinch, Peverelist, Joker all send me tunes. Tracks that I DJ are usually consisting of my friends' tunes; I put a lot of time into making tunes and live, but I can't search for tunes forever. It's nicer when someone approaches you with something you know you would like. I try my best not to listen to the music I DJ, one of the reasons is that I listen to it in the club anyway. Other reason is just not to be too influenced by stuff I'm hearing. I don't want to rip off stuff I'm hearing. Like, this past weekend I've been listening to that Ludacris mixtape, "1.21 Gigawatts", this is SO GOOD. Next week, I'll find something else, like Wiz Khalifa, but my go-to genre is always jungle. I like a jungle a lot.  I get a bit OCD finding some mixtapes; when I find one that I had from when I was ten years old, there's a great nostalgia factor.
Check out Addison Groove live on April 28th at Glasslands in Brooklyn, courtesy of HiFi Cartel + Surefire Sound. Tickets available HERE