That 808 you're hearing isn't made by Roland. Half of Austin-based techno duo Bodytronix, Eric Archer is a self-taught electrical engineer whose analog tinkering is responsible for much of the group's classic sound, inspired by equal parts Intergalactic FM machine funk and the talkboxing of Zapp. His counterpart Erich Ragsdale backs up Archer's 808 clone with a dose of XoxBox acid bass, TR-606 rhythm reinforcements, Multivox laser stabs, and copious amounts of 909 claps tweaked from an analog source with added delay, peek, and filter mods, a unit dubbed The Clapraca.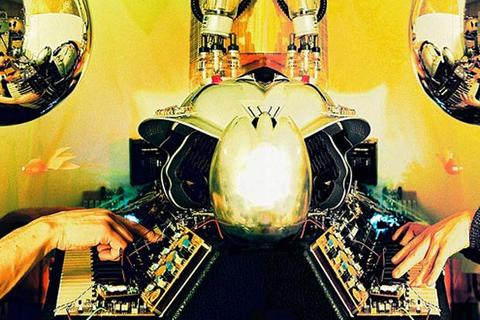 Gear fetishism aside, a sparse peppering of human elements keeps their sound from erring towards the industrial. Synthesizers are oscillated to emulate vocal inflections, melodies are jittery but loosely swung, when anyone sings it's through a thick vocoder. Their secret weapon, a rare analog sampler, adds chopped bits of speech that are scratched with crab-like precision.
The above 50 minute live recording was made on January 29th in Austin at dark-wave club night Last Dance, showing BT stretching from minimal to pounding acid, stopping for a hazed out drone with vocoder solo, then ending on a cover of Basa Basa's '83 high life track African Soul Power.
Skylons was recently released on a web compilation by Oakland-based label/sound-system Katabatik.
Live @ Wurhaus (Night of the Arawans) is currently BT's only vinyl release, available through Brain Club.
Bodytronix will be playing a free, opening night SXSW showcase at The Jr (aka Emo's inside) on March 13th, proceeded by fellow Austin square-wavers S U R V I V E and followed by Ramesh, formerly of Voxtrot.