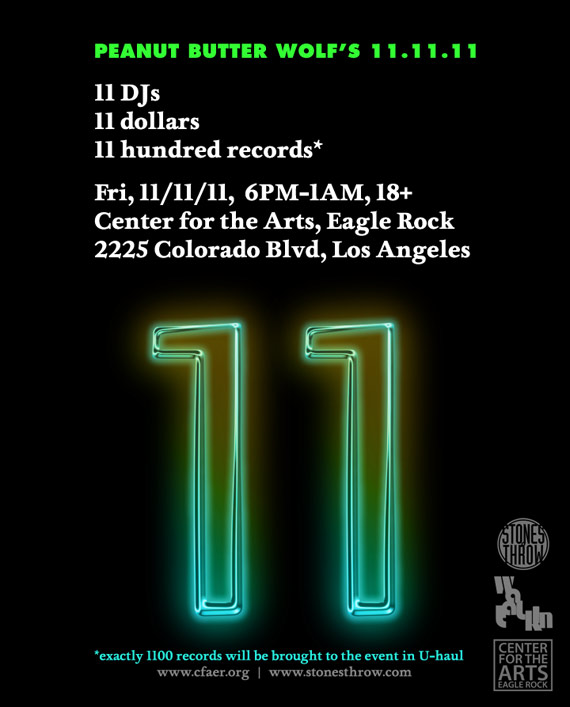 In a city as young as Los Angeles, where anything fresh and new gets preference over seasoned and established, anything resembling a tradition is highly welcomed. Perhaps that's why we get so excited each year when Stones Throw Records head Peanut Butter Wolf does his annual event(s) in conjunction with the repeating calendar, a tradition that's been going since 2006.
To review:
666 Wolf spins a Satanic metal DJ set.
777 7-day event & a gospel-themed podcast.
888 8-day event, all videos.
999 9-day event in 9 So. Cali. area codes.
101010 10 DJ's, 10 hours, all 45s.
For 11-11-11, PBJ and the crew have come up with another novel way to celebrate, with an event at the suddenly very hip Eagle Rock Center for the Arts. 11 DJs will perform at a cost of $11. And the cincher? The jocks will play from a collection of 1100 records, hauled to the venue in a truck.
The event takes place on Nov. 11, 2011 (duh), from 6PM-1AM at Center for the Arts in Eagle Rock at 2225 Colorado Blvd.
We can't wait to see what PBJ comes up with for 12-12-12. And then, like all LA traditions, this one will have to be forgotten for something new.